Exhibitions
Small Things Are Possible
Saturday 21 October 2023 - Sunday 18 February 2024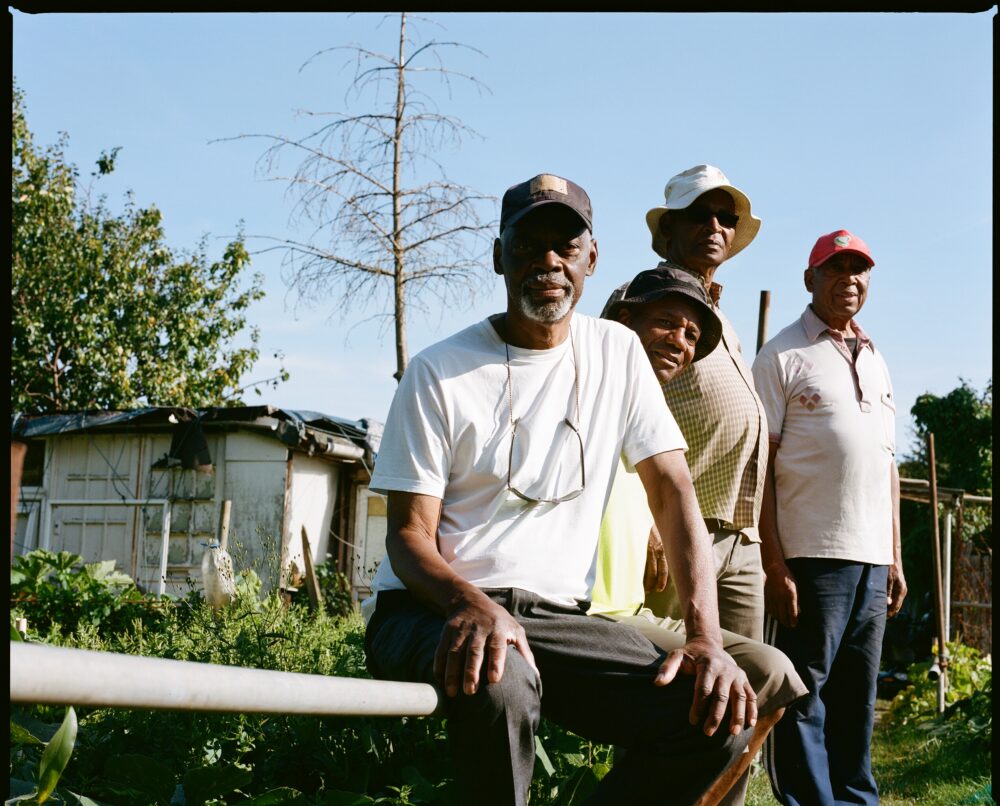 By Abel Holsborough. Part of William Morris Gallery's Radical Landscapes programme.
Small Things Are Possible is an immersive piece that spotlights Windrush Generation allotment holders in Waltham Forest, exploring their relationship to the land. The work combines audio and portraiture, creating a living archive of experience, presented at Vestry House Museum within an installation that pays homage to the idiosyncratic allotment sheds of the borough.
To the Windrush generation who left behind bountiful landscapes in tropical climates, starting new lives in heavily industrialised post-war London was a big culture shock. Island life in the Caribbean, even for those who weren't farmers, fostered a deeper connection to the land and to the food consumed on a daily basis. For Caribbean families, growing their own produce at home was a matter of necessity but also a cultural practice shared by the whole family. Arriving in the UK to a lack of stable or adequate housing meant that, for many, growing their own crops was a distant dream. Until they found allotments.
Windrush generation growers can be found across Waltham Forest's many allotments. These growing spaces are a firm part of the borough's cultural identity and the evolving Windrush experience and legacy. Their contribution can be seen in the visual landscape of the allotments, but also in directly enhancing the borough's ecosystems and urban biodiversity. Beyond the growers, their crops and cultivated plots evidence the resilience and adaptability that have come to characterise this generation; from adapting growing practices to cultivate Caribbean crops in the UK climate, to carefully passing down seeds and knowledge between generations of plot holders.
Experience the installation in the garden at Vestry House Museum. See the portraits at William Morris Gallery.
Image by Abel Holsborough
A Windrush 75 Commission for London Borough of Waltham Forest.
Read more about the Radical Landscapes exhibition and programme of events here.
Events
We don't have any events planned right now
Past exhibitions
To the Market: Photographs by Lloyd Ramos
Thursday 15 December 2022 - Sunday 30 July 2023

In 2013, photographer Lloyd Ramos graduated from university and found himself helping out at his parents' Filipino/East Asian grocery on Walthamstow High Street. Over the next decade he began to document the daily rhythms of life on Walthamstow Market. The exhibition at Vestry House Museum will present a selection of his photographs made during free moments while working at the shop over the past ten years.
Sweet Harmony: Radio, Rave & Waltham Forest, 1989-1994
Thursday 25 November 2021 - Sunday 2 October 2022

Sweet Harmony looks at a significant five-year period in UK dance music history and the previously undocumented contribution that young people living and working in the London Borough of Waltham Forest made to it.
Victory in the Streets: How Waltham Forest Celebrated VE Day (virtual exhibition)
Tuesday 5 May 2020 - Saturday 15 August 2020

Through historic photographs held in the Vestry House Museum photo archive, this digital exhibition reveals how Waltham Forest celebrated Victory in Europe.
We Are Here: Photographing the Windrush citizens of Waltham Forest
Thursday 5 March 2020 - Sunday 7 November 2021

A photographic heritage project capturing the lives of Windrush Generation residents of Waltham Forest, who came to the UK from the Caribbean in the 1950s to the 1970s.
Swarm: artists respond to the pollinator crisis
Friday 14 June 2019 - Sunday 26 January 2020

Artists Anna Alcock, Hannah Ford, Miyuki Kasahara, Alke Schmidt and Sandie Sutton show new work responding to the pollinator crisis.
Helen Stone: Laundresses & Char Women
Tuesday 11 June 2019 - Sunday 16 June 2019

Artist Helen Stone explores her family history. Part of E17 Art Trail 2019.
Ways of Seeing: Cornelia Parker and Rachel Whiteread
Thursday 6 June 2019 - Sunday 29 September 2019

Works by Cornelia Parker and Rachel Whiteread, a partnership between Waltham Forest London Borough of Culture 2019 and the Government Art Collection.
Motive / Motif: Artists commemorate the Suffragettes
Thursday 24 January 2019 - Sunday 9 June 2019

An exhibition of embroidered handkerchiefs designed by 20 contemporary artists, including Rachel Whiteread, Mona Hatoum and Sarah Lucas.
The In-between: An Ode to Epping Forest
Wednesday 28 March 2018 - Sunday 28 October 2018

An exhibition by the artist Rachel Lillie, revealing the history of Epping Forest and the hidden stories that have shaped its landscape.
No Ordinary Bicycle: John Kemp Starley and the two-wheeled revolution
Saturday 9 September 2017 - Sunday 25 February 2018

John Kemp Starley (1855 – 1901), born in Walthamstow, played a key role in the development of the modern bicycle.
Setting the Scene: Walthamstow in the Sixties
Saturday 17 June 2017 - Sunday 27 August 2017

The 1960s was a time of cultural and social revolution. Setting the Scene explores how the changes impacted the people of Walthamstow.
WE: The ex-Warner Estate in Waltham Forest
Saturday 29 October 2016 - Sunday 21 May 2017

An exhibition exploring the history of the Warner Estate houses in Walthamstow and Leyton, and the memories of the people who lived there.