As the 46th American president is sworn into office today, we thought it would be a good time to explore the connections between Essex and Waltham Forest and the first US president, George Washington. Their connections go back to 1632 when George Washington's paternal Great Great Grandfather, Lawrence Washington, was appointed the rector at the Church of All Saints in Purleigh, Essex. Originally from Northamptonshire, Lawrence moved to the Essex parish with his wife Amphillis and their six children.
However, with the outbreak of the English Civil War, Lawrence was removed from his position by Parliamentary Puritans in 1643, as the Washington family were Royalists. Devoted to his faith, Lawrence moved to the poorer Essex parish of Little Braxted to continue preaching a little further from the public eye. Amphilis decided not to join him and instead moved back to her family home in Northampton with their children.
Lawrence died in poverty in 1655 and Amphillis's died soon after, at this point one of their surviving children, John Washington, George's Great Grandfather, began working with a London Merchant who transported tobacco and other goods from North America to Europe. John invested in a ship and in 1657 joined the crew as second officer. However, the ship foundered in the Potomac River, between Maryland and Virginia, and although the ship was repaired John decided to stay in America.
In America, John Washington stayed in Virginia with Nathaniel Pope, a plantation owner. He fell in love with Nathaniel's daughter Anne and the couple married in 1658. Anne's father gave the couple 700 acres of land as a wedding gift which they ran as a tobacco plantation, dependent on the labour of African slaves and British indentured servants. The following year in 1659, the couple had their first son, Lawrence Washington.
Lawrence Washington, George's Grandfather, took over the family plantation and also took an active interest in politics, he became county sheriff was later elected to the Virginia House of Burgesses in 1685. In 1688 he married Mildred Warner, the daughter of a wealthy landowner, and the couple had three children together: John, Augustine and Mildred.
Lawrence died in 1698 at the age of 38, he was succeeded as the representative at the Virginia House of Burgesses by Joseph Ball. Ball had emigrated from England around 1680 and settled in Virginia at the Epping Forest plantation, possibly taking its name from the English Epping Forest that spans Essex and Waltham Forest. It was here that Ball's daughter, Mary Ball, was born in around 1708.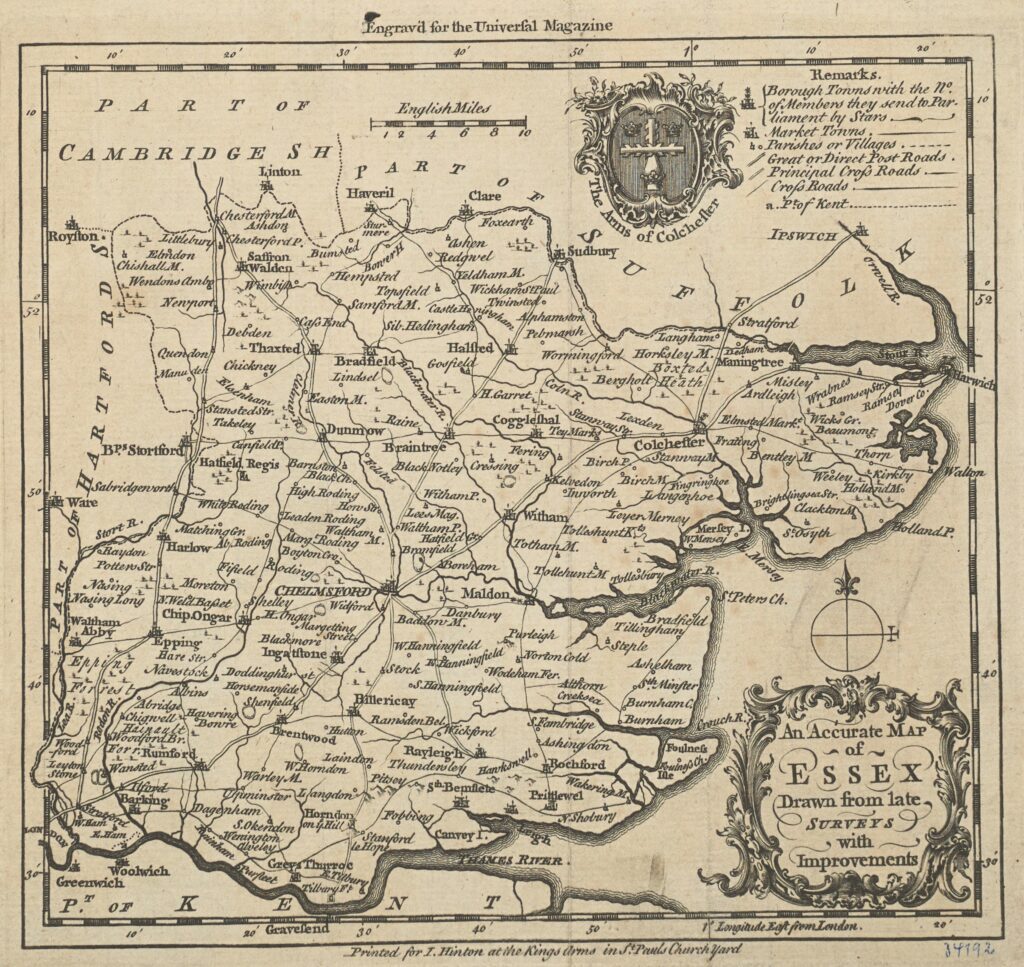 Joseph Ball died when Mary was only three and her mother died nine years later. From then Mary became the ward of a lawyer, George Eskridge, in accordance with her mother's will. Eskridge was a friend of Augustine Washington, Lawrence and Mildred's second son, and introduced the two around 1730. In 1731 they married and the following year they had their first son, George Washington.
As well as his father's side of the family originating from Essex, and his mother's family living at the Epping Forest plantation in Virginia, George Washington's connections with Essex continued in his own lifetime. In 1755 the 44th Essex Regiment of Foot travelled from England to America to take part in the Battle of the Monongahela against the French and Native American forces in part of modern-day Pennsylvania. The British were supported by local troops from British colonies in America including Colonel George Washington, who managed the rear guard and lead the surviving Essex soldiers to safety after they were defeated by the French.